By La Cámara on April 27, 2017 in
NEWS
Almost one-third of execs predict sales growth of over 30% vs. 2016
Nearly one-third of ecommerce executives in Spain expect retail ecommerce sales will increase by more than 30% in 2017 compared with 2016's sales, according to a survey by Kanlli and D/A Retail – Distribución Actualidad.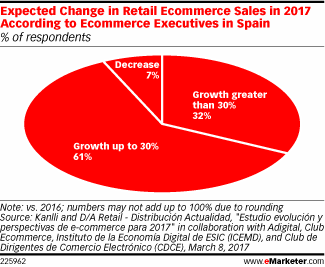 A sizable majority, however, believe growth will be more modest in the year to come. Over 60% of the executives polled expect retail ecommerce to grow up to 30% this year.
Just 7% said they expected a decrease in sales vs. 2016.
While B2C ecommerce sales in Spain continue to increase, that growth rate has been slowing since Q3 2015, according to the Comisión Nacional de los Mercados y la Competencia (CNMC). The organization reported that B2C ecommerce in Spain for that quarter hit €5.30 billion ($5.86 billion), an increase of 29.2% vs. Q3 2014.
Sales continued to climb to €5.95 billion ($6.58 billion) in Q2 2016, but by then the year-over-year growth rate had fallen to 20.3%.
One reason ecommerce in Spain has room to grow is that the market is relatively untapped. eMarketer estimates just 49.2% of the country's population will be digital buyers in 2017. That compares with 78.1% of the population in the UK and 68.3% of residents in Germany.
eMarketer projects retail ecommerce sales in Spain, excluding travel, will reach $16.7 billion in 2017, significantly lower than estimates for European neighbors Germany ($63.9 billion) and the UK ($118.8 billion).
—Ben Clague
Source: eMarketer